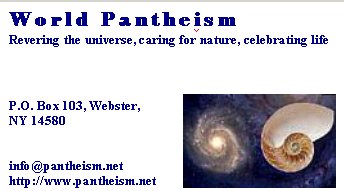 From the links on this page you can print out our visiting card design on standard print-your-own business card products.
INSTRUCTIONS
1.  Purchase some sheets of blank business cards, 2″ x 3

½ each

", 10 per sheet. They can be Avery, or most chains such as Office Depot or Staples make their own cheaper equivalent. Make sure they suit your printer (laser or inkjet).

2.  Download one of these files: (right click, choose "Save Target as," and save it in a folder you will remember.)
Cards (Word 97)
Cards (PDF)

3. Open the file in Word or Acrobat and print. Make sure you are set to print on the proper side, as only one side will absorb the ink properly. Do test pages to make sure it works properly for your paper size.

4. Please report any problems to promote at pantheism dot net, stating your operating system, your printer, the paper size/make you were using, and the exact problem you encountered. Tell us this even if you sort it out for yourself, if you think the instructions on this page should be corrected.